Coronavirus (COVID-19) update #5 from the Headmaster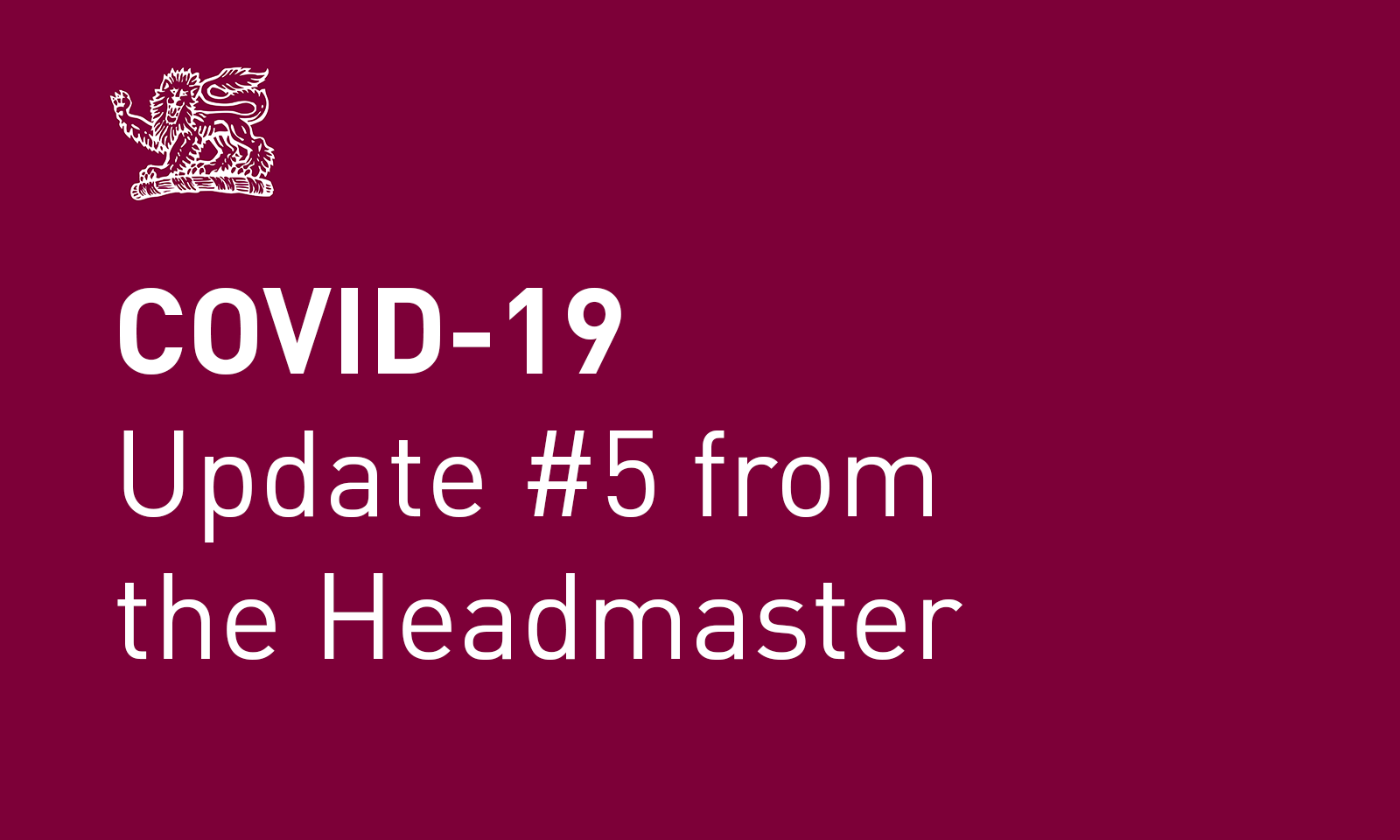 Attention parents/carers: please check Edsmart for the most recent communication that requires your response by 12.00pm Thursday 26 March 2020.
Over the past two months, The Hutchins School has been closely monitoring the advice from Federal and State authorities in relation to community containment of COVID-19. The School has acted swiftly to implement all precautionary measures as advised and remained vigilant in ensuring these measures are maintained.
Having acknowledged the likely impacts of COVID-19 on young people to be mild flu-like symptoms, our greatest concern has always been on the protection of those more vulnerable in the broader community. This includes family members, staff and people within the broader community with whom boys may interact.
While advice from Australia's Chief Medical Officer and the Australian Government remains unchanged regarding school 'closure', the significant escalation in 'social-distancing' measures mandated by the Australian Government as recently as last night and strong travel restrictions implemented by the Premier of Tasmania, Mr Peter Gutwein, demand a community response that is comprehensive and committed to the containment of this virus.
As such, The Hutchins School will move to a home-based learning approach for the remainder of this term. This will involve:
Thursday 26 March – All classes and Before and After School Care will continue at school until the end of the day. Boys will need to collect their learning materials from their locker and classrooms.
Friday 27 March – Student free day. Domestic boarding students are asked to return home on or before Friday.
Monday 30 March – Student free day for staff to facilitate a smooth transition to remote learning.
Tuesday 31 March – Remote learning program commences and continues until the end of Term 1, Thursday 9 April.
Vacation Care will not be offered during the Term 1 break.
Decisions regarding arrangements for the commencement of Term 2 will be made and communicated to families in the second week of the Term 1 break.
While our infrastructure and information technology capability is well prepared to facilitate our remote learning model, our greatest strength is the quality and dedication of our staff. Our staff are well prepared for a remote learning model and are committed to supporting you and your son during this uncertain and complex time. As parents and carers, you will be important partners in your son's learning in the 'at home' environment. We are confident that together as teachers and parents/carers we will create rich educational experiences that enhance your boys' learning in this alternative setting. It is most important our boys receive a consistent and purposeful education during this challenging time that will see their learning undisrupted.
The decision to move to a remote learning model has been difficult as we recognise the challenges of learning in social isolation on a young person's wellbeing. A sense of belonging, routine together with the encouragement of staff is essential for all boys. Our staff will strive to connect with boys online and continue to encourage and nurture their personal growth in a remote learning environment where we recognise the impacts of social isolation on an individual's wellbeing.
In these unprecedented and unpredictable times, it is incumbent upon all of us to protect vulnerable members of our community. I urge boys to exercise self-discipline, strictly observe the extended 'social distancing' measures announced last night by the Prime Minister, Mr Scott Morrison. Boys are to stay home, unless it is absolutely necessary to leave the house.
Parents/carers with occupational requirements that prevent them from caring or supervising their children at home from Friday until the end of term are asked to complete the online request for school based-supervision using the attached form as soon as possible.
Updates will be provided over the coming days regarding the details of the remote learning environment, pastoral support services, together with provisions the School has in place.
I thank The Hutchins School Board for their strong leadership and support of our whole school community during this time. Their commitment to the safety and wellbeing of our whole school community is their highest priority. I also acknowledge this decision will cause significant disruption to some families and thank all members of our school community for your understanding, support and flexibility during this challenging time.
Yours sincerely
Dr Rob McEwan and Mr Gene Phair